How to Clean Smoke Damage
You probably have a lot of questions about smoke damage and its cleanup. Smoke contains harmful gases, particles, and residues that cling to everything they contact. Smoke also can leave an unpleasant odor. The worst thing you can do is ignore it or try to clean things without the proper equipment or knowledge. Smoke damage cleaning needs to be done quickly before the smoke reacts with surfaces such as drywall or paint. The United Water Restoration Group of Orlando are experts in removing smoke from your home or business and returning it to you safe, clean, sanitized, and smelling fresh again. We have some tips of our own for you so that you can restore the property as if nothing was ever there!
First, assess the damage to make sure it's not too severe for an at-home remedy. If the smoke damage is too extreme, we recommend calling our smoke damage restoration team (407) 278-7715.
The At-Home List
Most people carry the necessary items used to clean up minimal smoke damage around the house. Following is a list of items needed to remove small, simple amounts of smoke damage on your own.
Fan

Vinegar

Sponge

Clean rags

Bucket with hot water

Soot remover

Shop-vac

Dry-cleaning sponge

Rubbing alcohol
Aerate the location
First off, you need to open windows all over the house. Turn off your HVAC system so that it does not spread the smoke and soot from a fire. You can also use fans (the bigger the better) to encourage airflow. This will encourage airflow to help remove most of the smoke odor from the location.
Stay Safe
If you want to clean the house, you'll need to wear protection. Wear a respirator if there is a lot of soot in the area. Put on long pants and sleeves to protect your skin. You should also wear gloves and eye protection. When you are cleaning, make sure that you put down floor protection and take away any furniture that is not damaged.
If the area is small, then it might be ok just to cover furniture with plastic or sheets. But if you are cleaning an entire room, it's best to remove all furniture so nothing becomes contaminated. Seal off rooms that were unaffected by the soot or smoke. This will save you time later in case they happen to get infected while cleaning. Try not to make a mess of the soot on the ground, you could track it into other rooms.
Smoke Damage Affected Upholstery
Soot and smoke can be hard to get off. You will need a vacuum with an upholstery attachment for the soot. You should use a shop-vac with strong suction power. Use a brush attachment, but be gentle and avoid scrubbing, which can make stains worse.
Dry-Cleaning Sponge?
A dry-cleaning sponge will assist in the removal of smoke and soot stains. Dry cleaning sponges are excellent for getting off stains. You should never use soot cleaner or water before you use a dry-cleaning sponge because if you do, it will make the stain impossible to get off with a chemical sponge.
When using the dry-cleaning sponge, start at one side and gently wipe the wall without putting too much pressure on it as this can cause more damage. Remember to rotate away from the dirty sides of the sponge. When the sponge is fully covered, you can cut off the dirty parts and wash them in the dishwasher with plastic covering it. You could also get a new sponge. DO NOT scrub the stains or you may spread them deeper into the wall!
Chemical Cleaners
Once all soot has been removed then you can move on to using cleaning products. Use a clean rag with any of the following cleaners: soot remover, rubbing alcohol, vinegar, or paint thinner. Wipe all surfaces with your preferred cleaners, even if there is no noticeable smoke damage. Next is to combine some dish soap with hot water. Use a rag and wipe away any other marks, nothing too abrasive! Repeat the use of all these products until the damage is gone. Keep refreshing your rags/sponge and get clean water. Some markings take more time to fully remove from the surface, but once done wipe with fresh clean water as a final cleanse.
Dry The Surface
Use a dry rag and fans to speed up the drying process. Smoke odors may take a few days to dissipate. If any materials may absorb the smoke, remove them from the room into a secure location. Anything that is a soft material – such as a couch, curtains, and carpet – you can steam clean to remove the smoke damage.
Try to refrain from artificial scents, they do not allow the fabric to breathe. Also, keep in mind to change your HVAC filter. This will help filter out the maximum smoke and soot possible.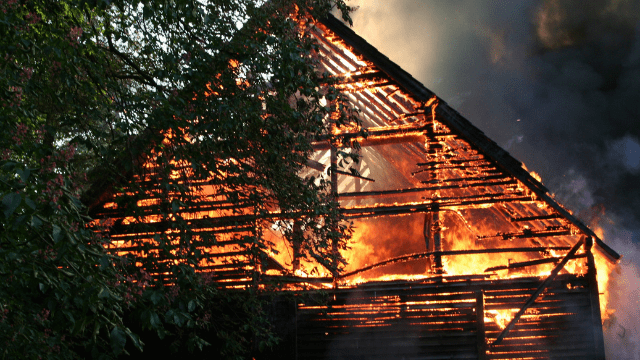 Hire a Professional Fire and Smoke Damage Restoration Team
When your home is faced with smoke or soot damage, it can be tough to clean. If the damage is only to a small room try cleaning it yourself. But if you want experts who can professionally remove any smoke damage occurrence contact United Water Restoration Group of Orlando! Our people are experts in fire and soot damage restoration. They use IICRC-certified techniques and state-of-the-art equipment. Give our smoke damage restoration experts a call at (407) 278-7715.